SLC7A11: a New Potential Therapeutic Target via Induced Ferroptosis in Tumors!
Lately, Cell (Impact Factor=66.850) released "Ferroptosis" review to mark the ten-year anniversary of the discovery of ferroptosis [1]! The article focuses on the key regulators of this form of cell death, which promise to yield further breakthroughs in ferroptosis mechanisms and therapeutic benefit in tumors. SLC7A11 as one of the most critical regulators of ferroptosis, in recent years, lots of evidence suggested that SLC7A11 drives ferroptosis resistance and plays a regulatory role in diseases. Many reports implied that SLC7A11 is not just a potent target for ferroptosis, but also a key mediator in the treatment of drug resistance in a variety of tumors, including lung adenocarcinoma, gastric cancer, colorectal cancer, glioma, and others. To date, researchers have explored a variety of anti-cancer approaches, however, drug resistance is a major barrier against successful cancer treatments. Therefore, SLC7A11 as a potential target in tumors might offer an alternative solution to get out of the dilemma. Well, what is SLC7A11 and SLC family? How's the mechanism of SLC7A11 in ferroptosis and tumor drug resistance?
1. What are Solute Carriers (SLCs)?
The Solute Carriers (SLCs), or SLC superfamily, is one of the most important families of membrane transport proteins in human cell membranes (including intracellular membranes) [2]. The human SLC superfamily consists of 52 subfamilies with more than 400 members [2, 3]. The SLC superfamily is the second largest family of membrane proteins after the GPCR [4]. The SLCs have a wide subcellular distribution and can be found not only in the cell membrane, but also in the nuclear membrane, endoplasmic reticulum, mitochondria, lysosomes, Golgi apparatus and peroxisomes [4, 5]. SLCs, as typical transmembrane proteins, transport a wide array of molecules, including metal ions, inorganic ions, organic ions, amino acids, lipids, sugars, neurotransmitters, nucleic acids, and drugs [6-8] (Figure 1).
Studies have shown that abnormal expression or functional defects of SLCs proteins are closely associated with the development of a variety of diseases, including tumors, metabolic diseases, cardiovascular diseases, immune system, and neurological dysfunction. These SLCs proteins were welcomed with great interest by researchers [7]. Particularly in tumors, SLCs serve as major components of amino acid transporter, but the bulk uptake of amino acids by tumor cells is achieved mainly through various overexpressed amino acid transporters [7-8]. Blocking uptake of amino acids into cancer cells is therefore a viable strategy to curb tumors.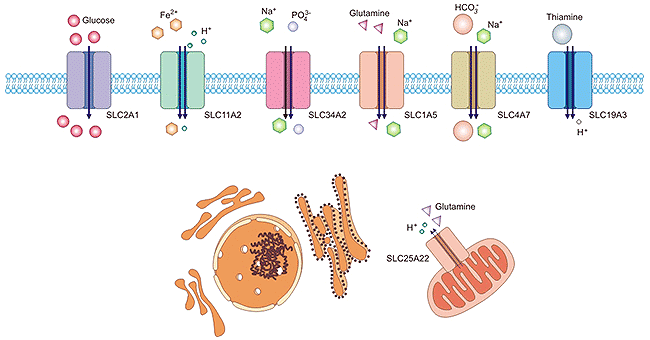 Figure 1. SLCs-mediated movement across the membrane [6-8]
2. What is SLC7A11?
Solute Carrier Family 7 Member 11 (SLC7A11) (also known as xCT) belongs to the cystine/glutamate transporter protein, mainly involved in amino acid transport across the plasma membrane [9, 10]. The SLC7A11 gene is located on human chromosome 4q28-q32, encoding the amino acid transport carrier xCT. SLC7A11 has 12 transmembrane domains composed of 501 amino acids in human, with its N- and C-termini located in the cytoplasm [9-11] (Figure 2). SLC7A11 is the specific subunit of System Xc-, an antiporter importing cystine while releasing glutamate [9-12]. System Xc- consists of two subunits, the light chain subunit SLC7A11 and heavy chain subunit SLC3A2. In recent years, multiple studies have revealed that SLC7A11 is highly expressed in a variety of tumors, which is closely associated with ferroptosis, stress resistance, and nutrient dependency [13-14]. Currently, SLC7A11 becomes a new potential target for cancer therapy.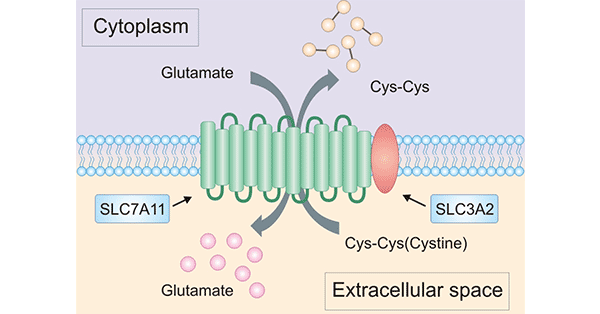 Figure 2. SLC7A11 structure [11]
3. SLC7A11-Related Regulatory Mechanisms
3.1 SLC7A11 and System Xc-
What is System Xc-? System Xc-(also commonly known as cystine/glutamate antiporter) is an amino acid antiporter that typically mediates the exchange of extracellular l-cystine and intracellular l-glutamate across the cellular plasma membran. As mentioned early, a System Xc- is composed of light-chain SLC7A11 and heavy-chain SLC3A2 (also named CD98 or 4F2hc) [10]. SLC3A2 acts as a chaperone protein to maintain the stability of SLC7A11 protein. Notably, SLC7A11 serves as a functional subunit of the System Xc-. SLC7A11 is highly specific for cystine and glutamate to participate in the extracellular uptake of cystine and release of glutamate. System Xc- mediated transport of extracellular cystine is vital for appropriate maintenance of intracellular cysteine and glutathione (GSH). In fact, system Xc- is involves in ferroptosis, apoptosis, and autophagy-dependent cell death, contributing to different diseases and tumor drug resistance. Importantly, SLC7A11 has pleiotropic functions beyond its function in system Xc-. Therefore, studies on the system Xc- have focused on SLC7A11 [11, 41] (Figure 3).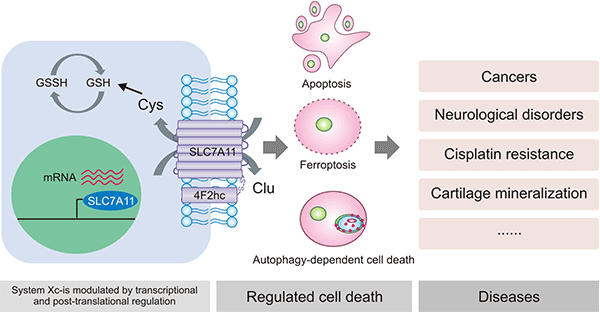 Figure 3. SLC7A11 plays a key role in System Xc- involved in biological functions [41]
3.2 SLC7A11 and Ferroptosis
SLC7A11 is a specific amino acid transporter protein and a key regulator of ferroptosis (click to see the article on ferroptosis), which in turn leads to lipid peroxide accumulation and inhibition of GPX4 activity, ultimately induces ferroptosis in cells (Figure 4) [15, 16]. In addition, the classical ferroptosis promoter Erastin, which targets SLC7A11, induces ferroptosis and reverses colorectal cancer drug resistance [17, 18]. Researchers have found that overexpression of SOCS2 promotes K48 chain-type ubiquitination degradation of SLC7A11, a key protein for ferroptosis, and regulates ferroptosis in hepatocellular carcinoma [19]. It was also recently shown that p53 can bind to the promoter region of the SLC7A11, which inhibits the SLC7A11 activity, as well as the GSH synthesis, leading to the ferroptosis [20, 21].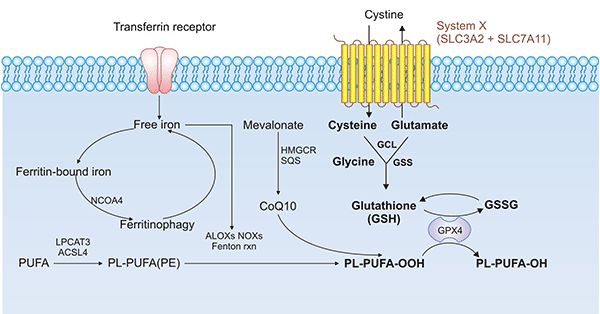 Figure 4. SLC7A11/GPX4 pathway in ferroptosis [15, 16]
3.3 SLC7A11 and Tumor Drug Resistance
The process of SLC7A11-mediated elevated GSH levels in tumors is involved in chemotherapeutic drug treatment resistance. For example, in glioma, SLC7A11 overexpression increases the resistance of tumor cells to oxidative stress and decreases sensitivity to temozolomide [22, 23]. In melanoma, SLC7A11 rendered melanoma resistant to BRAF inhibitors by increasing intracellular GSH, while inhibition of SLC7A11 by histone deacetylase inhibitors significantly induced tumor regression [25]. In colorectal cancer, a specific SLC7A11 inhibitor, sulfasalazine (SSZ), effectively enhanced the drug concentration and cytotoxicity of cisplatin in tumor cells [12]. In bladder cancer, downregulation of SLC7A11 significantly enhanced the sensitivity of drug-resistant cells to cisplatin [25]. In patients with triple-negative breast cancer, SLC7A11 and ATF4 expression levels were much higher than in normal breast tissue. eIF2α/ATF4 axis upregulated SLC7A11 expression, promoted GSH synthesis and inhibited the accumulation of reactive oxygen radicals ROS. But eIF2α dephosphorylation decreased SLC7A11 expression and increased caspase-3 expression, induced apoptosis in triple-negative breast cancer cells, making them more sensitive to Cisplatin and Doxorubicin [26, 27]. Therefore, SLC7A11 may be a therapeutic target for the treatment of multiple drug resistance-associated tumors.
4. The Roles of SLC7A11 in Targeted Tumor Therapy
4.1 SLC7A11 and Neurological Tumors
In human glioblastoma cells U87 and U251, overexpression of ATF4 suppressed the occurrence of ferroptosis in tumor cells by increasing SLC7A11 expression, which promoted the proliferation of glioblastoma [28, 29]. Another study confirmed that SLC7A11 knockdown in glioblastoma cells, or by using Nutlin-3a to negatively regulate SLC7A11 by releasing p53. As a result, lipoxygenase ALOXE3 expression was increased in cells, promoting ferroptosis and inhibiting tumor growth in mice [30]. SLC7A11 knockdown and overexpression in U251 glioma cells revealed that SLC7A11 knockdown increased ROS levels, decreased GSH levels, and promoted cell death; SLC7A11 overexpression increased resistance to oxidative stress in tumor cells and decreased sensitivity to Temozolomide [29].
4.2 SLC7A11 and Gynecologic Cancer
It has been reported to IGF-I activates SLC7A11 expression in estrogen receptor-positive (ER+) breast cancer cells, regulates cystine uptake and cellular redox state, and promotes cell proliferation, whereas this process can be inhibited by salazosulfapyridine (SSZ) [31]; a virus-like-particle (VLP; AX09-0M6) targeting SLC7A11 was applied, suggesting that mice immunized with AX09-0M6 had significantly less pulmonary metastases compared to controls in syngeneic models of breast cancer; an anti-SLC7A11 viral vaccine using a bovine herpesvirus type 4 (BoHV-4) vector, which was able to confer immunogenicity to tumor antigens. The BoHV-4-xCT vaccine impairs breast CSCs and protects mice from metastases in transplantable mammary cancer models. The safe vaccine may be a potential option to prevent breast cancer recurrence [32]. In ovarian cancer, Olaparib reduces the expression level of SLC7A11 protein in a p53-dependent manner, promoting ferroptosis and inhibiting tumor progression [33].
4.3 SLC7A11 and Respiratory Tract Tumor
SLC7A11 was expressed in a variety of lung cancer types. In lung cancer, Erastin, a classical inducer of ferroptosis, increased cell mortality with increasing drug concentrations [34]. In KRAS mutant lung adenocarcinomas, SLC7A11 inhibitor selectively increased metabolic stress and oxidative stress-mediated cell death [35]. It has also been reported that SLC7A11 is essential for KRAS-induced tumorigenicity by enhancing GSH synthesis [10]. In addition, SSZ inhibits cancer cell growth by inhibiting the system Xc-, which reduces intracellular GSH levels in small cell lung cancer cells. In human laryngeal squamous cell carcinoma, SLC7A1 knockdown induced G1 phase cell cycle arrest and inhibited cell proliferation, suggesting that SLC7A11 may be an important biomarker for the diagnosis and prognosis of human laryngeal squamous cell carcinoma [36].
4.4 SLC7A11 and Digestive System Tumor
In gastric cancer, knockdown of GDF-15 in MGC380 cells resulted in downregulation of SLC7A11, which also promoted Erastin-induced ferroptosis in tumor cells, but did not affect other ferroptosis-related genes, such as GPX4, transferrin, and ferroregulin (Hepcidin) [37]. In a mouse model of gastric cancer, inhibition of SLC7A11 by SSZ or excision of the CD44 inhibited the growth of gastric cancer cells. In Gemcitabine-resistant pancreatic cancer cells, SLC7A11 expression was upregulated. The inhibition of SLC7A11 with SSZ could increase cell killing with Gemcitabine under low doses. Thus, a combination based on targeting SLC7A11 inhibitors could help reverse Gemcitabine resistance in pancreatic cancer cells [10, 39, 40].
5. The Clinical Prospect of SLC7A11
Data from Pharmsnap suggested that there is one clinical drug (Anti-xCT antibody-drug conjugate (Agilvax)) targeting SLC7A11, which is in preclinical development for tumor treatment. At present, it is well established that SLC7A11 promotes drug-resistance or chemo-resistance in cancer therapy. Therefore, SLC7A11 inhibitors can be used in combination with clinical first-line chemotherapeutic agents to achieve better anti-tumor effects. In addition, many reports have suggested that SLC7A11 is widely distributed in a variety of malignant tumors. For this reason, the inhibition of SLC7A11 expression and activity is favorable for tumor treatment.
To fully support researchers and pharmaceutical companies in their research on the SLC7A11 targeted drug research in tumors, CUSABIO presents SLC7A11 active protein with a 12-transmembrane-domain (Code: CSB-CF892171HU(A4)), to assist you in your research on the mechanism of SLC7A11 or its potential clinical value.
Recombinant Human SLC7A11 (CSB-CF892171HU(A4))
● SDS Assay & High Specificity Validated by Western Blot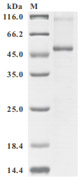 Recombinant Human Cystine/glutamate transporter(SLC7A11)
Code: CSB-CF892171HU(A4)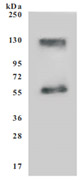 Recombinant Human Cystine/glutamate transporter(SLC7A11)
Code: CSB-CF892171HU(A4)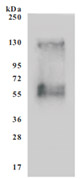 Recombinant Human Cystine/glutamate transporter(SLC7A11)
Code: CSB-CF892171HU(A4)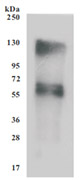 Recombinant Human Cystine/glutamate transporter(SLC7A11)
Code: CSB-CF892171HU(A4)
● Excellent Bioactivity Validated by Functional ELISA Blot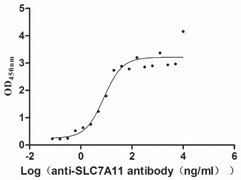 Recombinant Human Cystine/glutamate transporter(SLC7A11)
Code: CSB-CF892171HU(A4)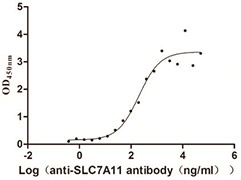 Recombinant Human Cystine/glutamate transporter(SLC7A11)
Code: CSB-CF892171HU(A4)
References
[1] Stockwell, Brent R. "Ferroptosis turns 10: Emerging mechanisms, physiological functions, and therapeutic applications." Cell 185.14 (2022): 2401- 2421.
[2] Liu, Xiaodong. "SLC family transporters. "Drug Transporters in Drug Disposition, Effects and Toxicity (2019): 101-202.
[3] Rives, Marie-Laure, Jonathan A. Javitch, and Alan D. Wickenden. "Potentiating SLC transporter activity: emerging drug discovery opportunities." Biochemical pharmacology 135 (2017): 1-11.
[4] Mariem, O. Ben, et al. "Deciphering the ligand/xenobiotic molecular recognition mechanism in SLC transporters via a new structural binding site analysis." (2021).
[5] Li, Qiao, et al. "Subcellular drug distribution: mechanisms and roles in drug efficacy, toxicity, resistance, and targeted delivery." Drug Metabolism Reviews 50.4 (2018): 430-447.
[6] Liu, Xiaodong. "Transporter-mediated drug-drug interactions and their significance. "Drug Transporters in Drug Disposition, Effects and Toxicity ( 2019): 241-291.
[7] Zhou, Shiwei, and Yan Shu. "Transcriptional Regulation of Solute Carrier Drug Transporters." Drug Metabolism and Disposition 50.9 (2022): 1238-1250.
[8] César-Razquin, Adrián, et al. "A call for systematic research on solute carriers." cell 162.3 (2015): 478-487.
[9] Bassi, Maria, et al. "Identification and characterisation of human xCT that co-expresses, with 4F2 heavy chain, the amino acid transport activity system xc-." Pflügers Archiv 442.2 (2001): 286-296.
[10] Lin, Wenyu, et al. "SLC7A11/xCT in cancer: biological functions and therapeutic implications." American journal of cancer research 10.10 (2020): 3106.
[11] Koppula, Pranavi, et al. "Amino acid transporter SLC7A11/xCT at the crossroads of regulating redox homeostasis and nutrient dependency of cancer." Cancer Communications 38.1 (2018): 1-13.
[12] He, Jiaqin, et al. "The amino acid transporter SLC7A11-mediated crosstalk implicated in cancer therapy and the tumor microenvironment." Biochemical Pharmacology (2022): 115241.
[13] Li, Sijia, et al. "The Role of SLC7A11 in Cancer: Friend or Foe?" Cancers 14.13 (2022): 3059.
[14] Lin, Yi, et al. "Pan-Cancer Analyses Confirmed the Ferroptosis-Related Gene SLC7A11 as a Prognostic Biomarker for Cancer." International Journal of General Medicine 15 (2022): 2501.
[15] Koppula, Pranavi, Li Zhuang, and Boyi Gan. "Cystine transporter SLC7A11/xCT in cancer: ferroptosis, nutrient dependency, and cancer therapy." Protein & cell 12.8 (2021): 599-620.
[16] Iida, Yuko, et al. "Effective ferroptotic small-cell lung cancer cell death from SLC7A11 inhibition by sulforaphane." Oncology letters 21.1 (2021): 1- 1.
[17] Xu, Xiaotian, et al. "Targeting SLC7A11 specifically suppresses the progression of colorectal cancer stem cells via inducing ferroptosis." European Journal of Pharmaceutical Sciences 152 (2020): 105450.
[18] Chen, Liang, et al. "GDF15 knockdown promotes erastin-induced ferroptosis by decreasing SLC7A11 expression." Biochemical and Biophysical Research Communications 526.2 (2020): 293-299.
[19] Chen, Qianping, et al. "SOCS2-enhanced ubiquitination of SLC7A11 promotes ferroptosis and radiosensitization in hepatocellular carcinoma." Cell Death & Differentiation (2022): 1-15.
[20] Guan, Zhenhua, et al. "Tanshinone IIA induces ferroptosis in gastric cancer cells through p53-mediated SLC7A11 down-regulation." Bioscience reports 40.8 (2020).
[21] Luo, Yi, et al. "Bavachin induces ferroptosis through the STAT3/P53/SLC7A11 axis in osteosarcoma cells." Oxidative medicine and cellular longevity 2021 (2021).
[22] Sehm, Tina, et al. "Temozolomide toxicity operates in a xCT/SLC7a11 dependent manner and is fostered by ferroptosis." oncotarget 7.46 (2016): 74630.
[23] Hu, Zhifang, et al. "A potential mechanism of temozolomide resistance in glioma-ferroptosis." Frontiers in oncology 10 (2020): 897.
[24] An, Lifeng, et al. "lncRNA AGAP2-AS1 Facilitates Tumorigenesis and Ferroptosis Resistance through SLC7A11 by IGF2BP2 Pathway in Melanoma." Computational and Mathematical Methods in Medicine 2022 (2022).
[25] Drayton, Ross M., et al. "Reduced Expression of miRNA-27a Modulates Cisplatin Resistance in Bladder Cancer by Targeting the Cystine/Glutamate Exchanger SLC7A11Cisplatin Resistance in Bladder Cancer." clinical cancer research 20.7 (2014): 1990-2000.
[26] Yadav, Poonam, et al. "SLC7A11/xCT is a target of miR-5096 and its restoration partially rescues miR-5096-mediated ferroptosis and anti-tumor effects in human breast cancer cells." Cancer Letters 522 (2021): 211-224.
[27] Sun, Chen, et al. "Propofol Inhibits Proliferation and Augments the Anti-Tumor Effect of Doxorubicin and Paclitaxel Partly Through Promoting Ferroptosis in Triple-Negative Breast Cancer Cells." Frontiers in Oncology 12 (2022): 837974-837974.
[28] Polewski, Monika D., et al. "SLC7A11 overexpression in glioblastoma is associated with increased cancer stem cell-like properties." Stem Cells and Development 26.17 (2017): 1236-1246.
[29] Polewski, Monika D., et al. "Increased expression of system xc- in glioblastoma confers an altered metabolic state and temozolomide resistance." Molecular Cancer Research 14.12 (2016): 1229-1242.
[30] Yang, Xinzhi, et al. "miR-18a promotes glioblastoma development by down-regulating ALOXE3-mediated ferroptotic and anti-migration activities." Oncogenesis 10.2 (2021): 1-13.
[31] Yang, Y., M. A. Becker, and D. Yee. "P2-03-03: An Insulin-Like Growth Factor I (IGF-I)-Induced Gene, Solute Carrier Family 7 Member 11 (SLC7A11)/xCT, Mediates IGF-I-Induced Biological Behaviors in Breast Cancer Cells." Cancer Research 71.24_Supplement (2011): P2-03.
[32] Wang, Zhanyu, Qianjin Jiang, and Chenfang Dong. "Metabolic reprogramming in triple-negative breast cancer. "Cancer Biology & Medicine 17.1 (2020 ): 44.
[33] Hong, Ting, et al. "PARP inhibition promotes ferroptosis via repressing SLC7A11 and synergizes with ferroptosis inducers in BRCA-proficient ovarian cancer." Redox biology 42 (2021): 101928.
[34] Huang, Chaoli, et al. "Upregulation and activation of p53 by erastin-induced reactive oxygen species contribute to cytotoxic and cytostatic effects in A549 lung cancer cells." Oncology reports 40.4 (2018): 2363-2370.
[35] Hu, Kewen, et al. "Suppression of the SLC7A11/glutathione axis causes synthetic lethality in KRAS-mutant lung adenocarcinoma." the Journal of clinical investigation 130.4 (2020): 1752-1766.
[36] Ma, Zhihong, et al. "SLC7A11, a component of cysteine/glutamate transporter, is a novel biomarker for the diagnosis and prognosis in laryngeal squamous cell carcinoma." Oncology Reports 38.5 (2017): 3019-3029.
[37] Chen, Liang, et al. "GDF15 knockdown promotes erastin-induced ferroptosis by decreasing SLC7A11 expression." Biochemical and Biophysical Research Communications 526.2 (2020): 293-299.
[38] Toyoshima, Kosei, et al. "Analysis of circulating tumor cells derived from advanced gastric cancer." international journal of cancer 137.4 (2015): 991 -998.
[39] Tang, Rong, et al. "The role of ferroptosis regulators in the prognosis, immune activity and gemcitabine resistance of pancreatic cancer." Annals of translational medicine 8.21 (2020).
[40] Tang, Rong, et al. "The role of ferroptosis regulators in the prognosis, immune activity and gemcitabine resistance of pancreatic cancer." Annals of translational medicine 8.21 (2020).
[41] Tu, H., et al. "Insights into the novel function of system Xc-in regulated cell death." Eur Rev Med Pharmacol Sci 25.3 (2021): 1650-1662.